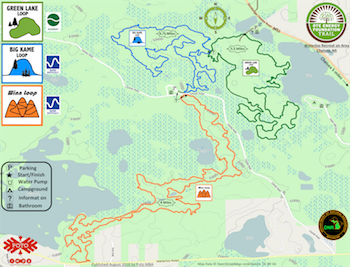 Current Trail Maps
---
DTE Energy Foundation Trail Information
Trail Conditions:
Trail conditions are regularly updated on the DTE Energy Foundation Trail Facebook page. Please check conditions before riding, because the trail does close during erosive conditions.
Daily Trail Directions:
Trail Direction alternates depending on the day. Below are the days for bike traffic and foot traffic is opposite. Signs are posted at the Trail entry points.
M/W/F/Su is Clockwise for bikes.
Tu/Th/Sa is CCW for bikes.
Opposite for foot traffic.
DTE Trail Parking Lots:
M-52 Parking Lot / Green Lot – 17819 Stockbridge Chelsea Rd, Chelsea, MI 48118
Cassidy Road Parking Lot – 16500 Cassidy Road Chelsea, MI 48118
McClure Road Parking Lot / Sugar Lot – 16701 McClure Road Chelsea, MI 48118
Lyndon Township Hall – 17751 N. Territorial Road, Chelsea, MI 48118
DNR Recreation Passport info:
A DNR Recreation Passport is required for vehicle entry into the Waterloo Recreation Area and to park at the DTE Energy Foundation Trail parking lots.
Michigan-registered vehicles, a resident Recreation Passport can be purchased at the time of annual license plate renewal via the Secretary of State for $11.
On-site self registration is available in the M-52 and Cassidy lots for $16 (Cash or Check only).
Credit Card processing is available at the Waterloo Recreation Area Headquarters.
Waterloo Recreation Area Headquarters
16345 McClure Rd, Chelsea, MI 48118
More info can be found here:
https://www.michigan.gov/dnr/0,4570,7-350-79134_79210—,00.html
---
Building the DTE Energy Foundation Trail
5 loops x 5 years = 25 miles at an average estimated total cost of $600,000.
Starting at a trailhead constructed just North of Green Lake off of M-52, the DTE Trail consists of five distinct loops, each with a set of unique characteristics and terrain.
Green Lake Loop – Completed June 2016
The vision will begin with the Green Lake Loop – around four miles of scenic, flowing fun suitable for beginner mountain bikers, but fun enough for advanced riders. Green Lake is represented on the map above in green.
Green Lake Loop Map (PDF Document)
Big Kame Loop – Completed May 2017
Subsequent to the Green Lake Loop build-out, we will be progressing into the Big Kame Loop (blue on map). Big Kame's most prominent feature will be – well – the Big Kame, of course! This loop will step up the challenge and elevation of the trail system, climbing a beautiful standout kame formation marked by a remarkable stand of old growth hardwoods at the top. The 4.5 miles in this loop is bound to take your breath away – both due to the aerobic workout it will require, as well as its breathtaking beauty.
Big Kame Loop Map (PDF Document)
Winn Loop – Completed August 2018
After Big Kame is completed, the DTE Trail will progress into its marquee segment, the Winn Loop (orange on map).  Named after the majestic body of water known as the Winnewana Impoundment that much of this segment overlooks, the Winn Loop will sweep through rolling, glacier-made terrain with forests of Oak and Hickory.  The capstone of this segment and perhaps the whole Waterloo Trail will be the trail's passage through the Winnewana Escarpment, a steep ridgeline with drops of several hundred feet down to Winnewana Impoundment.  Sweeping, scenic vistas will be the norm as riders traverse several large boulder-strewn swales which crisscross the ridgeline.  Riding challenge and beauty will be at their peak as riders drop down south on the Winn.
Sugar Loop – Completed August 2019
At the base of Winn will be the most southerly loop of the DTE Trail, the Sugar Loop. While it may be the shortest loop on the trail, it is sure to be sweet, packed with plenty of rollers, switches, and features that will keep the reflexes twitching.
CassidyLoop
Looking for the ultimate technical challenge? Then behold the final and most northerly planned loop of the DTE Trail – the Cassidy Loop (yellow/blue/red on map). Like the Upper Peninsula's Copper Harbor trails?  Structured wooden chutes and ladders are your thing? Then Cassidy will be your place as our crew utilizes a decades-old mining pit to create some special "Black Diamond" trail features that only a full-suspension bike could love. This segment will be sure to turn standard Southern Michigan mountain biking on its head with something new and different in the area.
---
View the Trail
Video produced by the Michigan Department of Natural Resources – Marketing and Outreach Division | Learn more at Michigan.gov/DNRTrails.